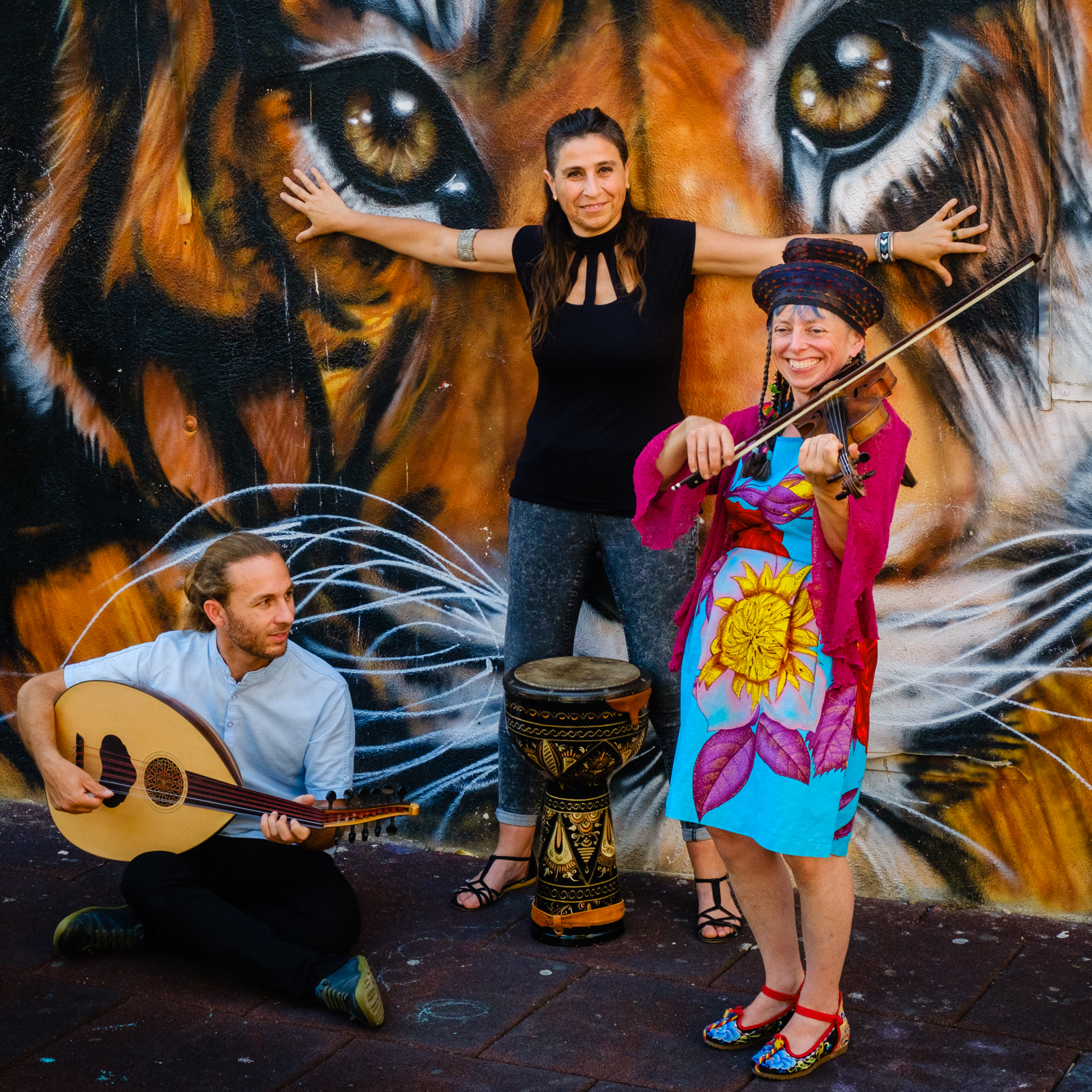 Besarabia is a group based in Valencia, Spain, inspired by the music from the Mediterranean & the Balkans. They have developed a very individual style interpreting traditional tunes but they have also created their own compositions, combining and fusing Balkan and Mediterranean sounds with Valencian lyrics.
With their sparkling interpretations of Balkan and Klezmer music and original compositions, the trio Besarabia transport the listener to a musical landscape inhabited by different cultures and traditions.
Besarabia was formed in 2013 when three professional musicians (Heidi Erbrich, Eva Domingo & Jaume Pallardó) with very different backgrounds and styles came together in Valencia. The concept of the group is to create a journey through the large array of music from the Balkans and the Mediterranean, highlighting this area where over the centuries east and west have met and joined together.
With an exquisite selection of dances and traditional tunes arranged by Besarabia in their unique style plus their own original compositions the public never fails to be surprised and enchanted by their live performances.
Besarabia has played at numerous renowned festivals in Spain and outside of Spain:
"Espai Mediterrani" (València, 2014)
Nits al Claustre (Castelló, 2015)
Castilla folk (1º premio del Concurso"Burgos raíz y evolución" 2016),
C.C. La Beneficiència (València, 2016)
Urdufolk (1º premio del Concurso de folk, Orduña, 2016)
Mostra Viva del Mediterrani (Palau de la Música de València, 2016)
Castilla Folk, (Burgos, 2017)
Poborina Folk (Teruel, 2017)
Fesmon (Moncada, 2017)
Etnomusic Tardor (València 2017)
Xàbia Folk (Xàbia, Alicante 2018)
Cartagena Folk (Cartagena, Murcia 2018)
XVII Festival Danzas sin Fronteras (Toledo 2018)
Nits a l'Ermita (Castellón 2018)
Mini Gira Uk (Oxford, Londres, Reading 2018)
Festival Hogueras sote & kaótik circus 2019
Underland Wine & Music Fest (Moldova, 2019)
Murcia Tres Culturas (Murcia, 2019)
They were awarded first prize in two mejor folk music competitions: 'Burgos Raíz y desarrollo' (2016) and 'Urdufolk' (2016). They have published two previous works: the EP "Besarabia" (self-released, 2014) and "Rhythms, Plaits and Cats" (Mésdemil, 2017), which charted for two months running in the Transglobal World Music Chart, in the prestigious list of the best albums in the world.
ANIMAL REPUBLIC (september 2021)
With this new recording project, Animal Republic, the group marks a new progression in their trajectory, in which they go from reinterpreting and arranging songs from the Balkan and Eastern European tradition, to creating an album with eleven totally original and unreleased songs.